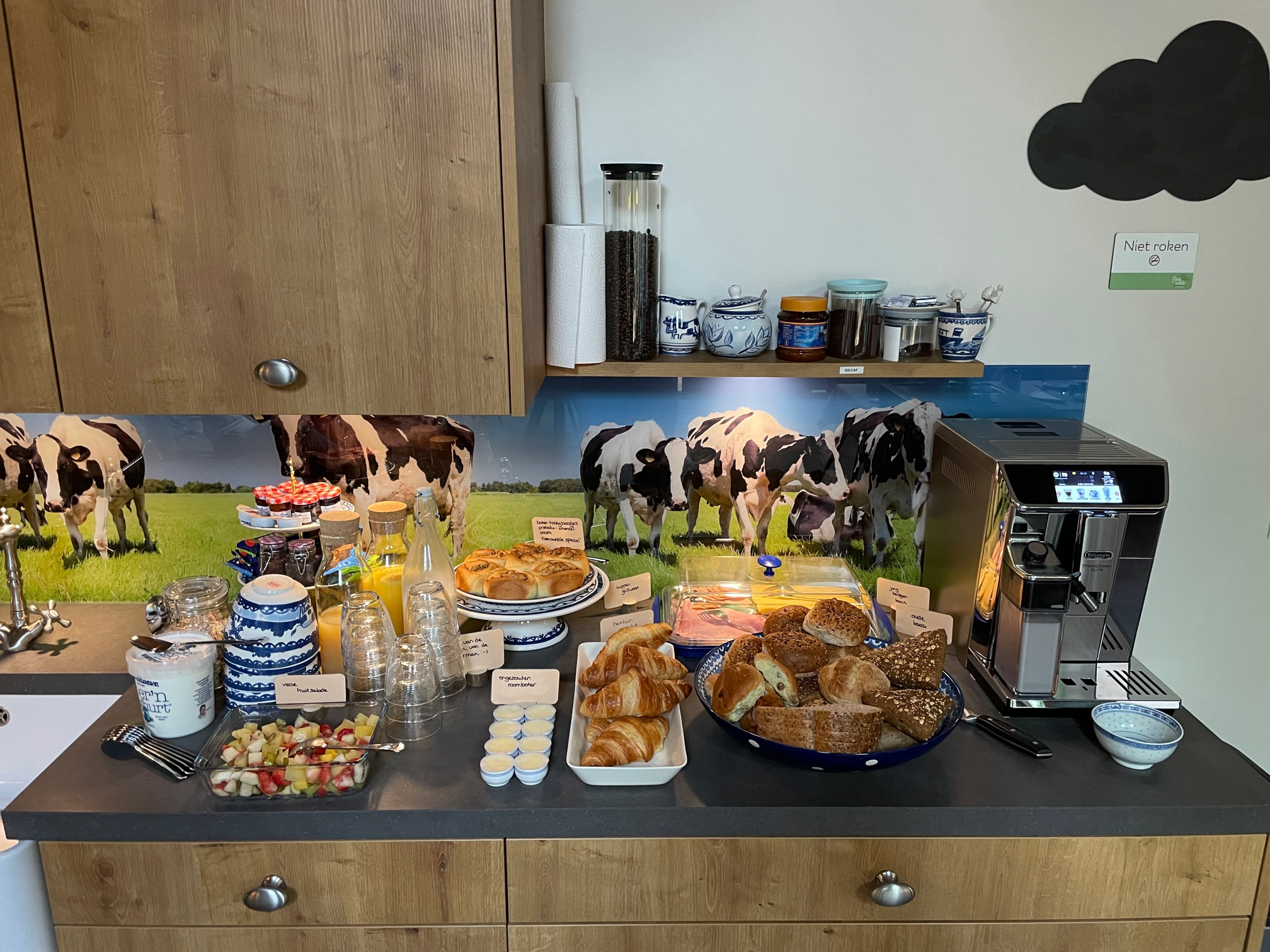 Eemswolde,
relax and enjoy!
You will find Bed & Breakfast Eemswolde in the Tanthof residential area in Delft. From the highways A4 or A13 you can swiftly reach our doorstep. In the luxurious themed rooms and bright breakfast area with a view of greenery, you can completely unwind before or after a busy day at work, visit friends / family in the area, or during your holiday stay. While enjoying a fresh cup of coffee or tea, enjoy a piece of Marion's much-praised Eemswolde Special, a delicious home-baked bread based on a local recipe.
B & B Eemswolde is a perfect base to explore the Midden-Delfland nature reserve with its meadow birds and old, partly monumental, farms by bike or on foot. The historic city center of Delft is also very close, where you can learn more about the characteristic Delft's Blue, former great masters and the beautiful buildings. Do you prefer to play golf or go to the beach of Scheveningen? Then you are certainly in the right place with us. In short, you can always experience Exceptional Enjoyment at Bed & Breakfast Eemswolde!
Each with its own theme, atmosphere and experience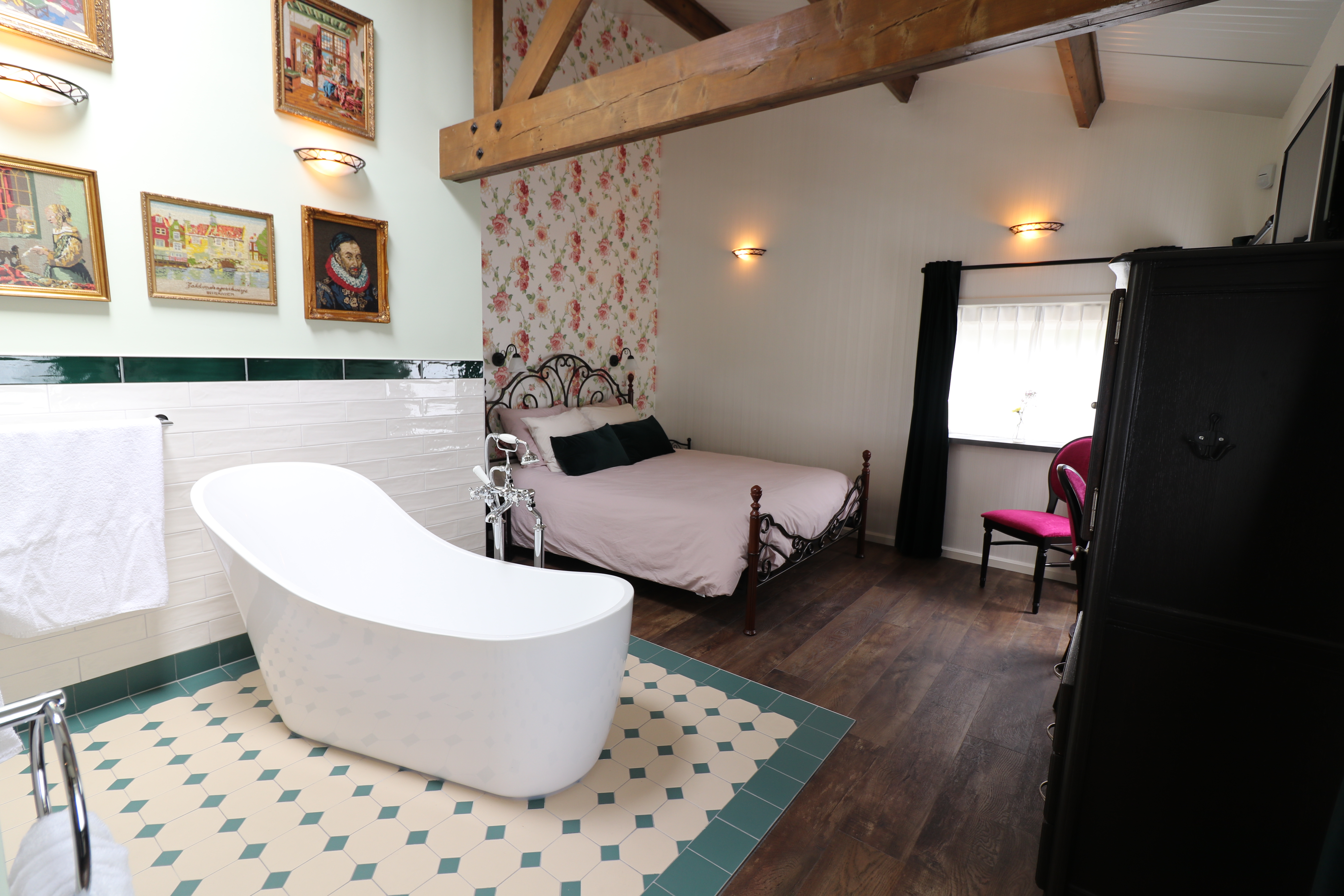 A romantic room par excellence. Enjoy a wonderfully relaxing bath and unwind.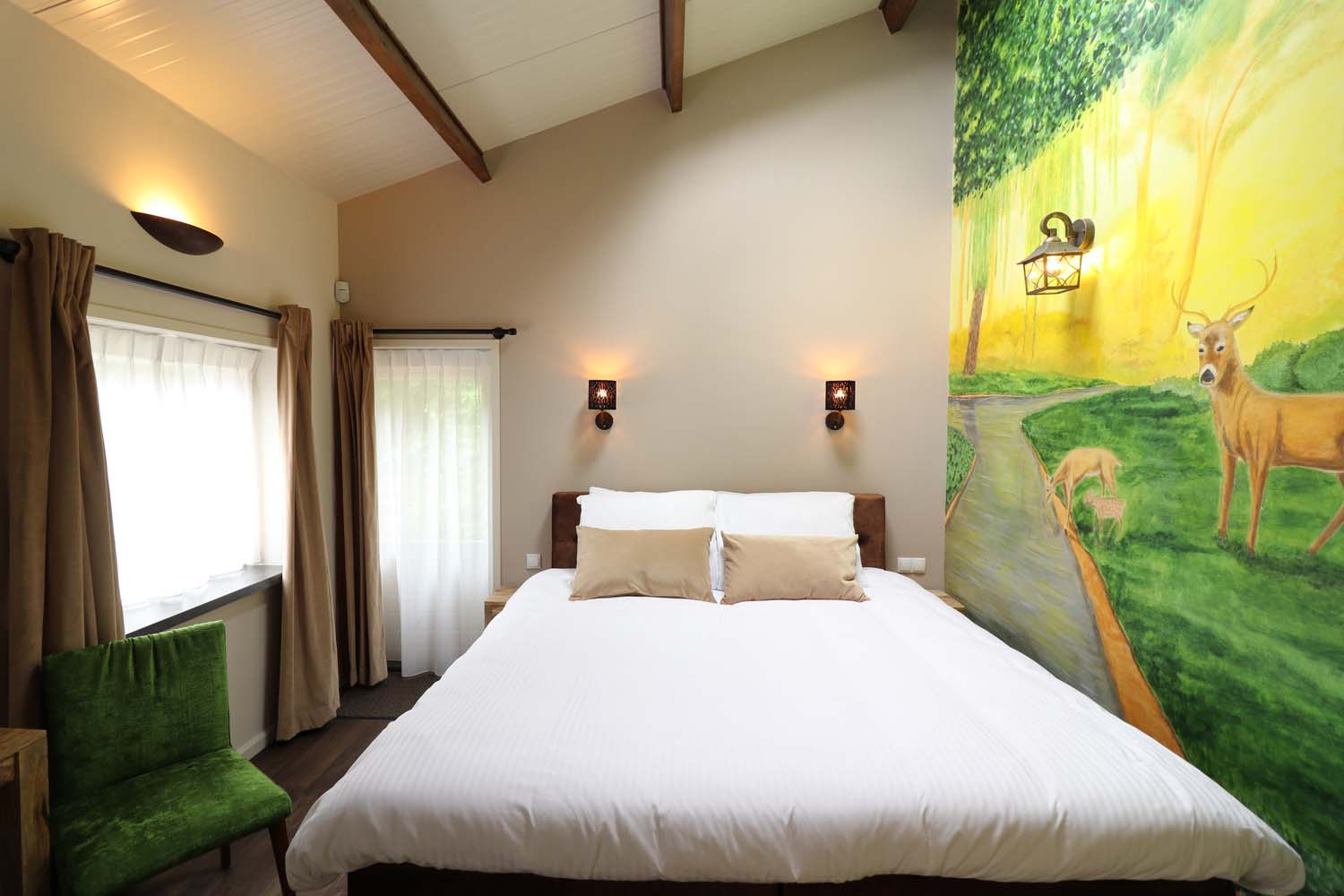 The experience of sleeping in the middle of the forest. Or sleep on height in the tree house...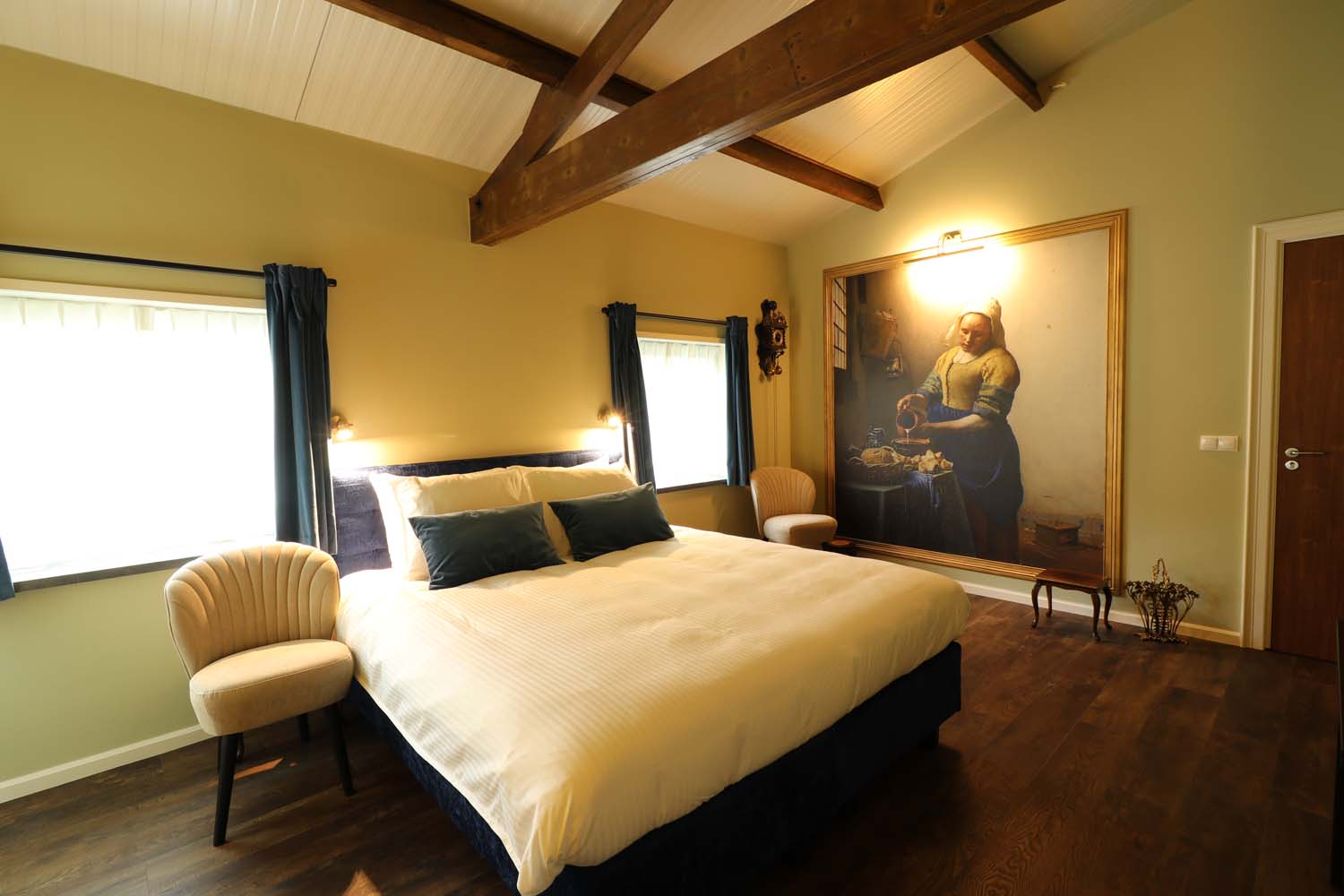 The great master might be jealous of such a life-size depiction of 'his maiden'.
Eemswolde - How it began
| | |
| --- | --- |
| A Bed & Breakfast was for neither of us a long-cherished dream. But the confluence of circumstances eventually led to our B&B that we are secretly proud of. We bought a tiny farm (tiny compared to 'Brabantse' farms) in Delft. The previous owner was a retired veterinarian and part of the property was an old clinic for pets. What should we do with all that space? A 'mancave', dance room, inhouse-cinema and other ideas didn't make it. In the end, only the idea of a B&B remained intact. After a number of drawings by top architects, many visits to the hardware store and shopping malls, and a large renovation by a top contractor, the B&B was finally a fact. Then the name for the B&B. We thought it would be nice to use a reference to the history of the area. Via Wikipedia we found out that Abtswoude is a degeneration of Popta's Wolde. That seemed a funny name for a B&B initially. But soon we found it a weird idea to call it to the settler Popta. This beautiful part of the 'woods' is not Poptas, but: Erwin & Marions, so 'Erwin en Marions Wolde'... Eemswolde. The rest is history in about 30 years ;-) |   |
Navigation instructions
Navigate to the end of the Latijns Americalaan (at the intersection with the Venezuelastraat) in Delft. If you can no longer continue, you will see the gate of B&B Eemswolde on your right hand side. Drive through the gate and you can park there.
Do NOT navigate to Abtswoude 32A. You cannot park on this road.
Please note! If you arrive or leave via the A4, please pay attention to the speed and red light cameras on the Kruithuisweg at the intersection with the Laan der Verenigde Naties (both directions).
Contact
Our contact information:
Name: Marion & Erwin
Address: Abtswoude 32A, 2622NA, Delft, The Netherlands
Phone Marion : +31 6 24 80 27 12
Phone Erwin : +31 6 26 17 62 46

Email: welkom@eemswolde.nl